Saga: Platinum Credit Card
| | |
| --- | --- |
| Provider: | Saga |
| Card Name: | Platinum Credit Card |
| Networks available: | |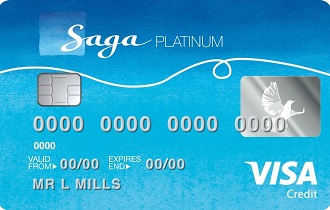 Rates & Fees
Introductory offers
Intro balance transfer rate
0%
Intro balance transfer period
0% for 9 months
Intro balance transfer fee
3%
Intro purchase rate
0%
Intro purchase period
0% for 9 months
Other rates and fees
Representative APR
11.9% APR (Representative)
Interest free period
55 days
Interest charged from
date of transaction
Annual fee
£0
Interest on cash withdrawals
19.6%
Charges and payments
Charge on overseas spending
0%
Charge on cash withdrawals
2% of withdrawal (minimum £2)
Charge for going over limit
£10
Charge for late payment
£10
Charge for returned payment
£10
Rewards & Benefits
Spending Rewards
Cashback Rewards
-
Airmiles
-
Points Scheme
-
Shopping Rewards
-
Charity Rewards
-
Other Incentives
Discounts are available when using the card for Saga's travel services. The card provides exclusive discounts off items such as food, drinks, telephone calls and laundry that have been charged to a room, at selected hotels featured throughout Saga's range of holidays. There is also Internet Fraud Guarantee.
Cardholder benefits
0% on overseas purchases
Travel insurance
-
Warranty cover
-
Purchase protection
-
Internet fraud protection
Internet fraud protection is available for transactions made online using the Saga Platinum Card if the cardholders details are obtained fraudulently. This is in addition to the 'Verified by Visa' service provided by the card.
Opening and managing the account
Application information
Minimum age
50 years
Minimum income
£12,000 per annum
Credit rating
Prime
Existing customers only
-
Additional account required
-
Apply online
Maximum credit limit
£0
Account services
Manage online
Cheque book
Apply
Go to site
Go to site
Product data provided by Defaqto