M&S Bank: Credit Card
| | |
| --- | --- |
| Provider: | M&S Bank |
| Card Name: | Credit Card |
| Networks available: | |
| Representative example: | Based on a credit limit of £1200 charged at 18.9% variable p a for purchases. Representative 18.9% APR variable. |
| Product summary: | A good 0% deal on new purchases and a reasonable reward scheme if you shop at M&S frequently. A bonus points voucher for 500 M&S points worth £5, when you spend in food, clothing or home at M&S. |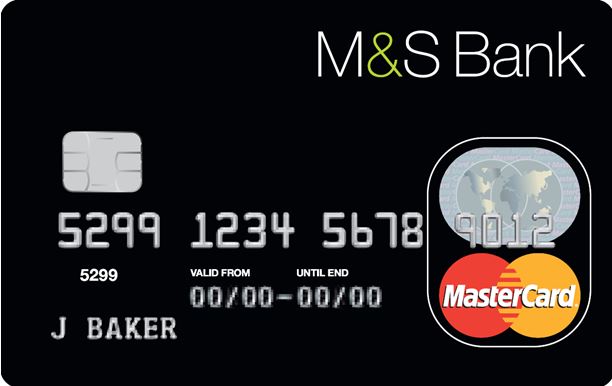 Rates & Fees
Introductory offers
Intro balance transfer rate
0%
Intro balance transfer period
0% for 25 months
Intro balance transfer fee
2.9%
Intro purchase rate
0%
Intro purchase period
0% for 25 months
Other rates and fees
Representative APR
18.9% APR (Representative)
Interest free period
55 days
Interest charged from
date of trans debit
Annual fee
£0
Interest on cash withdrawals
23.9%
Charges and payments
Charge on overseas spending
2.99%
Charge on cash withdrawals
2.99% of withdrawal (minimum £3)
Charge for going over limit
£12
Charge for late payment
£12
Charge for returned payment
£12
Rewards & Benefits
Spending Rewards
Cashback Rewards
-
Airmiles
-
Points Scheme
M&S Rewards: 1 point is earned for every £1 spend at M&S. 1 point is earned for every £5 spend elsewhere. Bonus Points: 500 bonus points the first time the cardholder shops at M&S, subject to terms and conditions. 1,000 bonus points if the cardholder takes out M&S Home Insurance. 250 bonus points if the cardholder takes out M&S Pet Insurance. From time to time M&S offer the cardholder bonus points for specific promotions, subject to availability. Redemption: Four times a year, points are exchanged for M&S Reward Vouchers to be spent in-store, at a rate of 100 M&S points = £1 M&S Reward Voucher.
Shopping Rewards
Priceless London Exclusive access to a range of deals and offers in London with the M&S MasterCard credit card; also the opportunity to attend exclusive M&S Priceless events.
Charity Rewards
-
Other Incentives
M&S Travel Club: Save 8% on holidays Commission Free Travel Money with no cash advance fee if bought on the card. Free home delivery for purchases over £500 and up to £2,500 made on the card. Minimum order value £100. Car Insurance M&S cardholders will receive a discount on car insurance when taking out a new policy or renewing existing cover. Terms and conditions apply.
Cardholder benefits
0% on overseas purchases
Travel insurance
-
Warranty cover
-
Purchase protection
-
Internet fraud protection
SpendSafe A extra layer of protection, in addition to standard measures already in place. 24 hour fraud detection system from the moment the account is opened. Text alerts On request, M&S can sent out text alerts if any suspicious activity is noticed on the account.
Opening and managing the account
Application information
Minimum age
18 years
Minimum income
£0 per annum
Credit rating
Prime
Existing customers only
-
Additional account required
-
Apply online
Maximum credit limit
£0
Account services
Manage online
Cheque book
Product data provided by Defaqto