Liverpool FC : Credit Card
| | |
| --- | --- |
| Provider: | Liverpool FC |
| Card Name: | Credit Card |
| Networks available: | |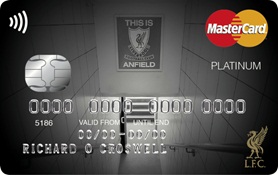 Rates & Fees
Introductory offers
Intro balance transfer rate
0%
Intro balance transfer period
0% for 24 months
Intro balance transfer fee
2.99%
Intro purchase rate
0%
Intro purchase period
0% for 3 months
Other rates and fees
Representative APR
18.9% APR (Representative)
Interest free period
49 days
Interest charged from
date of trans debit
Annual fee
£0
Interest on cash withdrawals
27.9%
Charges and payments
Charge on overseas spending
2.99%
Charge on cash withdrawals
5% of withdrawal (minimum £0)
Charge for going over limit
£12
Charge for late payment
£12
Charge for returned payment
£12
Rewards & Benefits
Spending Rewards
Cashback Rewards
-
Airmiles
-
Points Scheme
Reward Points - for each £1 spent, the cardholder will receive a reward point. Points can be exchanged for rewards, including branded merchandise and offers.
Shopping Rewards
-
Charity Rewards
-
Other Incentives
MBNA, the card issuer, makes a contribution to the club every time the card is used to make a purchase.
Cardholder benefits
0% on overseas purchases
Travel insurance
-
Warranty cover
-
Purchase protection
-
Internet fraud protection
Safe Shopping - Shop safely with MBNA. Cardholders are not liable for fraudulent transactions whether purchases are made on the Internet or on the high street. Inform MBNA as soon as any unusual transactions are evident. 3D Secure - Cardholders can now sign up to Verified by Visa and MasterCard Secure Code through the MBNA 3D Secure service. Active Fraud Monitoring - MBNA has an early warning fraud system that monitors all accounts for unusual transactions. If suspicious transactions are made, MBNA will call or text cardholders affected to let them know. These calls may be made using the latest technology where the voice heard will be computer generated speech. If the transaction is recognised, instructions will be given to confirm it and then continue using the card as usual. If the transaction isn't recognised, the cardholder will be transferred to a Fraud Representative who will assist from then on.
Opening and managing the account
Application information
Minimum age
18 years
Minimum income
£0 per annum
Credit rating
Prime
Existing customers only
-
Additional account required
-
Apply online
Maximum credit limit
£0
Account services
Manage online
Cheque book
Product data provided by Defaqto