First Direct: Credit Card
| | |
| --- | --- |
| Provider: | First Direct |
| Card Name: | Credit Card |
| Networks available: | |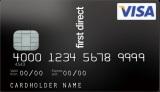 Rates & Fees
Introductory offers
Intro balance transfer rate
0%
Intro balance transfer period
0% for 27 months
Intro balance transfer fee
2.29%
Intro purchase rate
0%
Intro purchase period
no intro offer
Other rates and fees
Representative APR
18.9% APR (Representative)
Interest free period
56 days
Interest charged from
date of trans debit
Annual fee
£0
Interest on cash withdrawals
24.0%
Charges and payments
Charge on overseas spending
2.99%
Charge on cash withdrawals
Charge for going over limit
£12
Charge for late payment
£12
Charge for returned payment
£5
Rewards & Benefits
Spending Rewards
Cashback Rewards
Customers will receive an introductory £25 cashback subject to applying for this card by 10th May 2015 and making a purchase or balance transfer within 3 months of account opening. Terms and conditions apply. There is no ongoing cashback offer.
Airmiles
-
Points Scheme
-
Shopping Rewards
-
Charity Rewards
-
Other Incentives
Free mini statements If the cardholder is a mobile phone user they can take advantage of a unique free service to help keep track of their spending. First Direct can send them regular mini-statements direct to their mobile detailing their Credit Card balance and the last 5 transactions. £25 Cashback Must apply for the first direct Credit Card or first direct Gold Card between 23 March and 10 May 2015. The card must be opened and a purchase or balance transfer made within three months account opening. The £25 credit will be paid direct to the customer's 1st Account.
Cardholder benefits
0% on overseas purchases
Travel insurance
-
Warranty cover
-
Purchase protection
-
Internet fraud protection
Fraud Detection System State of the art technology will look for any unusual activity on the account in order to help protect the cardholder from fraud. Zero Online Fraud Liability When First Direct credit card is used online, the cardholder is protected against internet fraud and won't be charged for online transactions undertaken without their authority.
Opening and managing the account
Application information
Minimum age
18 years
Minimum income
£0 per annum
Credit rating
Prime
Existing customers only
-
Additional account required
Customers are required to have a 1st Account in order to apply for the Black Visa Credit Card.
Apply online
Maximum credit limit
£0
Account services
Manage online
Cheque book
Product data provided by Defaqto