Everton FC : Credit Card
| | |
| --- | --- |
| Provider: | Everton FC |
| Card Name: | Credit Card |
| Networks available: | |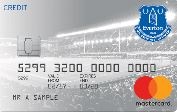 Rates & Fees
Introductory offers
Intro balance transfer rate
0%
Intro balance transfer period
0% for 6 months
Intro balance transfer fee
5%
Intro purchase rate
0%
Intro purchase period
no intro offer
Other rates and fees
Representative APR
18.9% APR (Representative)
Interest free period
50 days
Interest charged from
date of transaction
Annual fee
£0
Interest on cash withdrawals
27.9%
Charges and payments
Charge on overseas spending
2.99%
Charge on cash withdrawals
5% of withdrawal (minimum £5)
Charge for going over limit
£12
Charge for late payment
£12
Charge for returned payment
£12
Rewards & Benefits
Spending Rewards
Cashback Rewards
-
Airmiles
-
Points Scheme
-
Shopping Rewards
Receive 10% off at the Everton club shop.
Charity Rewards
-
Other Incentives
0% Season Ticket Offer look out for details throughout the season Exclusive prize draws to win money-can't -buy Everton prizes. No booking fee on match day tickets when using card. Free Stadium Tour of Goodison Park.
Cardholder benefits
0% on overseas purchases
Travel insurance
-
Warranty cover
-
Purchase protection
-
Internet fraud protection
yes. Customers will not be liable for fraud taking place on their account.
Opening and managing the account
Application information
Minimum age
18 years
Minimum income
£0 per annum
Credit rating
Prime
Existing customers only
-
Additional account required
-
Apply online
Maximum credit limit
£0
Account services
Manage online
Cheque book
Product data provided by Defaqto