American Express: Platinum Cashback Credit Card
| | |
| --- | --- |
| Provider: | American Express |
| Card Name: | Platinum Cashback Credit Card |
| Networks available: | |
| Representative example: | Representative 18.7% APR variable. Based on assumed credit limit of £1,200 and £25 annual fee. Interest rate for purchases 14.0% p.a. variable. |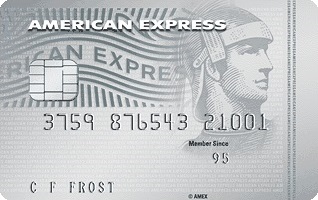 Rates & Fees
Introductory offers
Intro balance transfer rate
na%
Intro balance transfer period
no intro offer
Intro balance transfer fee
3%
Intro purchase rate
0%
Intro purchase period
no intro offer
Other rates and fees
Representative APR
28.2% APR (Representative)
Interest free period
56 days
Interest charged from
date of trans debit
Annual fee
£25
Interest on cash withdrawals
27.9%
Charges and payments
Charge on overseas spending
2.99%
Charge on cash withdrawals
3% of withdrawal (minimum £3)
Charge for going over limit
£12
Charge for late payment
£12
Charge for returned payment
£12
Rewards & Benefits
Spending Rewards
Cashback Rewards
Customers will be eligible for a 5.00% cashback introductory bonus rate on all purchases in the first 3 months up to £125. After this, cashback reverts to: Spend £0-£10,000 = 1% on purchases. Spend over £10,001 = 1.25% on purchases.
Airmiles
-
Points Scheme
-
Shopping Rewards
-
Charity Rewards
-
Other Incentives
Refund Protection Should any UK retailer, online or offline, refuse to refund the cardholder for any covered goods within 90 days of purchase, AMEX promise to refund them. Policy covers undamaged goods only and begins where any insurance or merchant returns policy leaves off. Up to £300 per item and £750 per card account. Certain goods excluded and policy subject to conditions of cover. Amex Offers Exclusive discounts and offers from American Express.
Cardholder benefits
0% on overseas purchases
Travel insurance
-
Warranty cover
-
Purchase protection
Free purchase protection is available.
Internet fraud protection
Fraud Protection Guarantee: Victims of fraud won't be held responsible for any fraudulent charges , as long as they have taken reasonable care to protect their account details and PIN. As soon as AMEX is alerted to fraud, they will do all they can to resolve the matter and return the account to normal. For example, they will credit the account in full as soon as possible, and arrange a replacement Card, with a new secure card number. For added protection, cardholders should always check their statements. This can be done online with online services, where transactions can be checked daily. Or, if registered for Card Alerts, cardholders can monitor their account activity, with weekly account balance updates by email or text message.
Opening and managing the account
Application information
Minimum age
18 years
Minimum income
£0 per annum
Credit rating
Prime
Existing customers only
-
Additional account required
-
Apply online
Maximum credit limit
£0
Account services
Manage online
Cheque book
Product data provided by Defaqto